Basketmouth is back with another work of art titled "Horoscope" after a year since his debut album "Yabasi" in 2020.
2021, Basketmouth released some singles that did excellent on playlists in Nigeria; some of these top Basketmouth 2021 singles are 'Your Body' featuring Buju (Now known as BNXN) and 'Trouble' Featuring Blaq Bones and 2baba.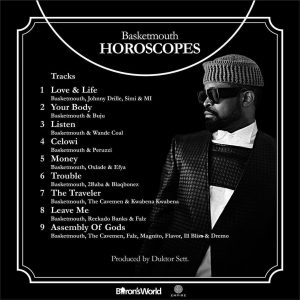 On 'Yabasi,' Basketmouth did a fantastic job selecting perfect beats to express specific topics excellently, but 'Horoscopes' is a reinforcement of his ability and Duktor Sett's professionalism as a producer.
The nine-track album opened up with "Love & Life," featuring Johnny Drille, Simi, and M.I Abaga. The track tells an unstable love story about a married woman who is still emotionally attached to her imprisoned ex. Johnny Drille and Simi synced so well it made the collaboration seamless. M.I rap at the end added the extra vibes, which gave the beat a complete feel.
The fifth track, "Money," featuring Nigerian star Oxlade and Ghanaian artist Efya, reflects the day-to-day human experiences with money. Songs like "Listen" featuring Wande Coal and "Celowi" featuring Peruzzi emphasize love and the complexity of sex.
"Trouble" and "Traveler" contain the traditional pop elements, and the drum arrangements on each beat were made incredibly for a smooth pop sound. Basketmouth had earlier released "Trouble" in 2021; It still sounds fresh, like the taste of fresh water.
SEE Basketmouth – "Yabasi" Album Review
The 'Horoscopes' album tells a story that ends at 'Leave Me' – a happy ending.