Since hitting the airwaves with her single 'Try me', Tems has enjoyed massive love from home and abroad. From writing her songs to producing them, the love Tems gets is undeniable. In 2020, Tems got featured by Wizkid on one of the biggest Nigerian hits of the century, 'Essence'.
Tems spoke with her fans when she asked them to ask her questions using the #askTems hashtag on Twitter. Chatting on Twitter, Tems about how did not expect her career to get the massive boost it got, in such a short while.
Read on for a breakdown of five major takeaways from the Twitter chat and be sure to check out other amazing things about Tems HERE
She is a real friend of Drake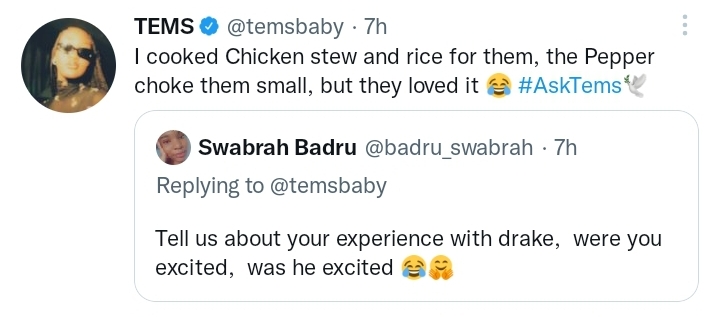 Tems while answering questions on Twitter, was asked how it felt to meet Drake. She replied she cooked him rice and stew. You don't cook for someone that isn't your friend, so we believe we will be getting more from Tems and the music icon.
Almost every record label did not want her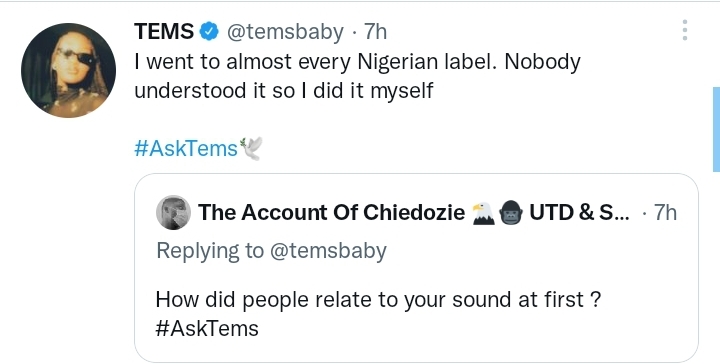 Speaking with her fans, Tems was asked how people related to her sound initially, she replied that she went to almost every Nigerian label and they did not understand it. So, she had to do it herself and we must commend, doing it herself was a great decision. Don't you think so?
She is not dating anyone
She was asked if she was in a relationship and she replied "Yes, with Elohim". We are assuming Elohim in this context means God and not the name of a mystery one. So, let us agree that Temsbaby is single, like most of us.
There is just one feature on her EP
Tems was asked if there are any features on her forthcoming EP, 'Crazy Tins', she responded with 'Just one'. Now, we need to know if it's Drake. We know for sure who it's not because she is saving Wizkid for her album.
We should expect an album in 2022

This is a question we all want to know, when will Nigeria's fast-rising singer-producer release her album. Finally, someone asked this question while Tems was hosting her tweet-chat session, and she replied, 'Album for 2022'.
We know for sure this album will be loaded with the who's who of the music world.
These are the top five things we got from her. Were you part of those that asked these questions? If not, if you get a chance to ask Tems any question, what will you ask?