Majesty Lyn, a rising Afro-Fusion sensation, is about to release a new single titled, "Stop Dancing" on Friday, September 16th.
Majesty Lyn's sound has recently been upgraded to accommodate the dexterity of her talent while highlighting the sensual tendencies of her vocals. Lyn, who is signed to Freeme Music, has had a meteoric rise in her career, building an unwavering community around her brand. She is set to make a comeback weeks after launching her debut single of 2022 with 'Notice,' a funky bop tune, in preparation for her upcoming project, "Things on Things," which is set to be released later this year.
This new song, on the other hand, follows in the footsteps of Lyn's dynamic, edgy, and versatile talent. The upcoming single "Stop Dancing," produced by Psalmist and featuring fellow upcoming artiste, Jackychan, is a pop-sound, and combines a feel-good, caribbean-island-party vibe with sensual African melodies. With seductive percussion and upbeat melodies, the chorus, a persuasive yet assertive declaration, sets the tone for Majesty Lyn and Jackychan to serenade their love interests as they taunt them with suggestive things of what they would do if they caught their lovers on the dancefloor. Majesty Lyn and Jackychan's vocals provide a soothing counterpoint to the island vibe of "Stop Dancing."
Pre-Add/Pre-Save "Stop Dancing" HERE
FOLLOW MAJESTY LYN
Instagram | Facebook | Twitter | Tik Tok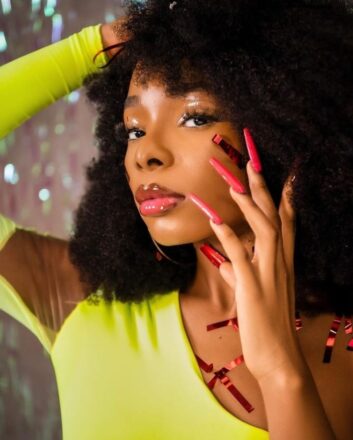 About Majesty Lyn
Charlesyn Rosbeth Charles, professionally known as Majesty Lyn, is a rapper, singer, songwriter, and Digital Artist from Port Harcourt City, Rivers State. After releasing three EPs, Majesty Lyn is re-emerging into the Nigerian soundscape with her upcoming EP, "Things on Things". Majesty Lyn, is the exact embodiment of a musical and digital artist pushing the boundaries in both worlds. With the hard bars of battle rap, the heart-felt lyrics of RnB, and the energetic playfulness of Afrobeats, Majesty Lyn has emerged as the artist to watch in the Nigerian soundscape. Lyn, as she is fondly called, pushes listeners to hear past the constructs of the current Afro-fusion/Afro RnB world, creating a genre that defies the norms of typical Afro-sounds into something that can be recognized and enjoyed by music consumers from different backgrounds, lived experiences, and tastes; an Afro-Progressive wave.