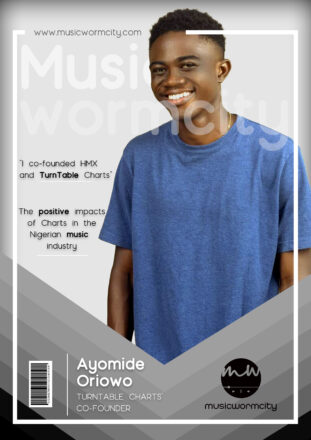 In the past, Nigerians have relied on radio and TV charts. However, with the current hype in Afrobeats and Nigerian music generally, it is important that people know the most listened to music and artists. This is exactly what Ayomide Oriowo and Similoluwa Adegoke thought of when they co-founded TurnTable Charts, a music chart platform comparable to the likes of the USA's Billboard chart. TurnTable Charts is a platform that helps to chart music in Nigeria and provides data on music streams and airplay. To achieve their goals for the Nigerian music industry TurnTable Charts has partnered with different companies including but not limited to Pulse NG, Native and Radio Monitor, a platform that allows them to receive TV and radio airplay data within Nigeria. They have also partnered with Nigeria's Chocolate City Music and Aristokrat records.
In an exclusive interview with MusicWormCity, Ayomide Oriowo, a student of Obafemi Awolowo University, Ibadan, and co-founder of TurnTable Charts sheds more light on TurnTable Charts as well as their plan in years to come. Read the interview below.
Interviewer: Please tell us a bit about yourself and your personal background
Ayomide: I'm a final year student of OAU, department of Estate Management. I'm a Barcelona fan, I like football a lot. Even in school, I'm a coach at my faculty. I used to work as a freelance writer at least until TurnTable came into the picture and I've not been taking freelance jobs since then. I watch a ridiculous amount of movies. Although I'm starting to replace that with a ridiculous amount of music.
Interviewer: So you co-founded HMX and TurnTable Charts?
Ayomide: Yes, with my partner, Adegoke Similoluwa
Interviewer: Are you a developer?
Ayomide: No, he is the developer. I handle the business. I am more vast in music so I handle the music, and he is vast in tech and development, so he handles the tech. Same with HMX
Interviewer: What significant role did you play in co-founding Turntables?
Ayomide: It was my idea and I just went to him and said 'let's do this. We've always had plans to do things together. Because of the fact that it's music and a lot of things have to do with getting partnerships, getting all these music organizations to work with you, sourcing for data, data research… I handle that part and he basically handles the tech part i.e the algorithm, a chart that works. I handle the methodology and research and of course, I have other team members that help me out. Like I said, I know a lot about music, so I handle the research.
Interviewer: That's pretty interesting. So how have you been able to accurately curate data, talking about the airplay tracking, streams and download?
Ayomide: At the moment, we are able to track 3 metrics, that's streaming, radio and TV. For radio and TV, we have partners for that. That's Radiomonitor, we have a partnership with them which started in June 2020. They are a British company with a South African division, so we approached their South African branch. That was our first step to aggregating data. We knew that we have radio stations in Nigeria and we felt like we had two options, either we develop our radio tracking service or we find a partner so of course, we did a CBA analysis and went for the option of finding a partner. It worked with their plans too and since then we've been able to aggregate radio play, airplay in Nigeria across different states. That was the first step. We also made steps to try to aggregate streaming so we were able to track streaming ourselves. We are the data provider in terms of streaming. Platforms like Boomplay, Audiomack and YouTube. At the time Spotify wasn't around so we were not able to get their data. Later on, we were able to get access to Triller, the American-French video-sharing company. We also have a partnership with them. In a similar manner in which they have the chart with Billboard that is designed for America, they have one for Nigeria in partnership with TurnTable Charts. That partnership started around September 2020.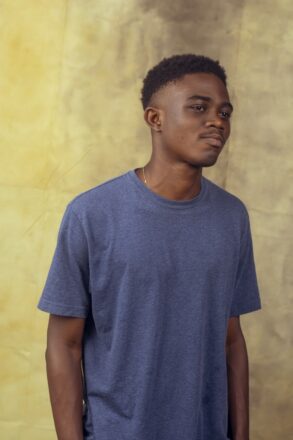 Interviewer: That's impressive. What are the positive impacts of Charts in the Nigerian music industry? Do you think it has any impact?
Ayomide: Yes, of course. We wouldn't have started it if we didn't know we would make an impact in the music scene. For one, if I ask you if you know the most popular song in Nigeria in 2012, it will be difficult to remember. We are able to give that answer to you at any period in time "that ok, this is the most popular song in Nigeria today, this is the most popular song in this quarter." We don't do monthly charts but it is something we can also provide, like say this month, this is the most popular song. We started providing this kind of accurate information in 2020, which makes it the base year for us; and No. 1 song of 2020 was DJ Neptune's "Nobody" with Joeboy and Mr Eazi. You can easily say this was the No.1 song with the information that TurnTable Charts is able to provide. So you won't say Davido's "FEM" was No.1 even though it was also a massive hit in 2020. Yes, it was popular but it wasn't No. 1. First off, we are able to answer that question. Let's leave the consumer/fan/listener POV and look at it from the industrial perspective. The way music is consumed now that we have more music platforms, you need to be able to make data-backed decisions. If you want to invest in an artist, you need to be able to look at data and make inferences using them. You can look at growth period, trend, and consumer behaviour. The gap between Afro-pop and hip-hop in Nigeria is not as far as people make it seem if you look at the data – you just need to know what type of Hip Hop folks prefer. As a record label executive, you can look at what genre to focus on… It is one of the things we are able to provide for the Nigerian music industry. Then there is the aspect of data analytics where a lot of music organizations don't know when people are listening to their songs on radio and TV, how many people are listening to it, same thing with artists and publishers. We are able to aggregate all this data, track it and analyze it.
Interviewer: So record labels and music artists come to you?
Ayomide: We've not started the B2B service yet. We are mostly focused on trying to aggregate the data first. But we've announced partnerships with record labels like Chocolate City, Aristokrat. We have a lot of music organizations that we've not announced yet, up to like 25 of them but we need it for something else which is why we can't announce yet. But they also want to get access to data. They want to know when their songs are being played on radio and TV stations and how many times it's getting played. Is it getting played when people are listening or when they're not? We are able to provide that for them but for now, we are just trying to establish a relationship with them and with time, we can provide the B2B services.
Interviewer: What influenced you to co-found TurnTable Charts?
Ayomide: I'm what people would call a music head and I also happen to read a lot of Billboard articles. I used to be in a Billboard community where we drop comments and information about music. They tell you things you don't even know about music. I used to be there almost every week in 2016. That was my first introduction to what the possibilities of a music chart publication in Nigeria. I'm sure everybody in Nigeria must have woken up at some point in their lives and asked why we don't even have a chart publication in Nigeria, why we don't have an official chart in Nigeria. Of course, I thought about that too. As streaming platforms became bigger, I always wondered why there is a No.1 song on Boomplay, YouTube, Apple Music, iTunes but nobody knows what the No.1 song on TV or Radio is. It was around 2019 that I decided that we needed to combine all the data available to us and see if we can get it done. I knew that some other people must have tried but let's see how far we can go with this. I look back and laugh at some of the things we did at the beginning. During the pandemic, we just decided that since we were home, there was no school and we had the time, let's start. Whatever data we can aggregate, let's start. Then we started and the reception was good so I said 'then, let's do this the proper way combining the data not chart positions now, the data, the raw numbers, the airplay, let's do that'.
Interviewer: What kind of experience do you have in the music industry aside from charts?
Ayomide: Besides the chart, I don't have any other experience in the music industry. I'm just someone that likes music and someone that likes data.
Interviewer: What media platforms have TurnTable charts partnered with?
Ayomide: We are partners with media platforms like Pulse NG & Native. They put out the data we curate. We also have partnerships with TVs and Radio stations.
Interviewer: What do you offer to your partners?
Ayomide: You get firsthand access to music charts if you partner with the TurnTable Charts. If it's in terms of analytics, we can easily personalize it because what record labels want is different from what artists want and some might want the whole deal. Radio and TV stations are also able to syndicate our charts.
Interviewer: How do you juggle school with TurnTable Charts?
Ayomide: I make it work plus I have amazing team members that make things easy for me.
Interviewer: Did your grades suffer?
Ayomide: Not really.
Interviewer: You mean you multitask well?
Ayomide: Yes, very well.
Interviewer: What are the challenges you're facing at TurnTable charts?
Ayomide: The two major challenges we have at TurnTable charts are financial and access to music data for aggregation.
As a startup, we require funds to scale and expand some of our operations, we also have other parts of entertainment like film and television that we plan to explore. We also have plans to expand to other countries in Africa especially as we have started getting access to some of their data.
Regarding access to data, Nigerian music is fragmented into various spheres with little existing and almost non-functioning structure. Some of the problems that this presents for us at TurnTable Charts is that there is nobody to meet for data. For instance, in the United States, they have institutions in charge of aggregating data, the only thing Billboard does is publish the data. But in Nigeria, we (TurnTable Charts) have to aggregate the data ourselves and also the publishing of the charts. Of course, it makes our work interesting and it makes us a more valuable startup. Yeah, it's a lot of work but it has rewards too. We aggregate the data ourselves, it means that we have to collect data from different parts of where music is gotten from Radio, TV, Sales and even Social Media. Social media is where a lot of the music gets played. It means we have to start learning how to incorporate TikTok, Triller, even IG reels and Twitter. It's the work we have to do to get to where we want to reach; where we are able to say this is everything that goes into the Nigerian music, this is how it is, this is the level it is, this is the change in consumer behaviour, this is what people are listening to in different parts of Nigeria. It's the major challenge we have. We also have other challenges like power supply and network issues but those are systematic problems that every Nigerian has to combat with.
Interviewer: How do you guys overcome the electricity and network issues?
Ayomide: We use generators and everybody works with their light schedule.
Interviewer: In summary, how would you describe your journey?
Ayomide: I think the word that will describe it best is "surreal". TurnTable Charts is a year old on July 9. Some of the 5-year plans we have are things we've achieved in 3 months into our operation. We didn't imagine that we would have data from a company like Triller but 3 months into operation, they saw what we were trying to do as well as the value it would add to their platform in Nigeria. The fact that we are able to put out the No.1 song on Triller on our platform every week makes the artist also put more effort into actually promoting their music on Triller because they know that there's a measure for it.
It's been an incredible journey. Having partnerships with leading companies like Chocolate City, Aristokrat records and having relationships with some of the biggest organizations in the world like Sony and Radiomonitor is huge. It's been incredible. There's a lot of work but the journey has been fantastic. We just launched a Songs of the Summer Chart for Nigeria and globally that combines streaming and radio airplay in over 80 countries – this is the kind of stuff you don't imagine we would achieve a year into operation. It's hard to complain, you just gotta be thankful.