Daz How Star Do anchor Skiibii, who officially launched his career in 2014 after his first feature with Kcee on "Ajibole", has finally let himself out of his shell with his debut Extended Playlist "God is Bigger Than Man".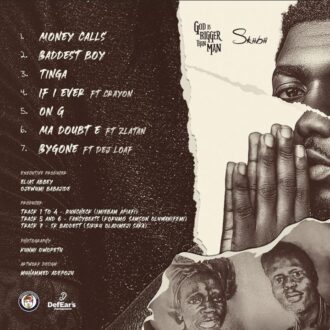 The Sensima crooner left his former label Five Star Music four years back to start MoreGrace Music, his creative enterprise that produced his new EP. The playlist consists of 7 tracks (2 previously released singles; 'By Gone '& 'Baddest Boy' with five new tracks) and features: Crayon, Zlatan, Dej Loaf. 
Skiibii launches the EP with the track Money Calls first, emphasising family and love above every other irrelevant thing. Although 'Baddest Boy', 'Tinga' and 'On G' didn't bear weight in their lyrics, the beat gave the tracks a little push to stay afloat. 
'If I Ever' stands for the word all round: from the lyrics, synchronising, beat, tempo, and flow between Crayon and Skiibii. The track gives the vibe of a yeast who wasn't in a hurry to be made into something great. 
"Ma Doubt E" features Zlatan, one recommended track for a good party; Zlatan injected Skiibii with a bit of his energy which gave the song the depth it needed. 
On this EP, singer Skiibii fuses Afrobeats, R&B and hip-hop rhythms to capture his various thoughts, qualities and moods. It also involves some impressive creative points, which deserves some accolades.